Men's Breakfast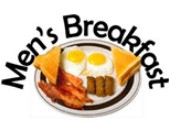 October 12: Patriot Guard representatives Beth Read and Donna Barnes will present the Guard's mission and its role in welcoming home honor flight participants.
The men's breakfast group welcomes all men in the community. Our breakfasts are at 8:30 on the 2nd Saturday of the month from September to May. We hope to see you.  Watch for news in the Herald,bulletin, and online.
Our format includes a delicious breakfast, a devotion, a featured speaker, and plenty of Christian fellowship. A $5 donation is appreciated to cover expenses.  
For meal planning it is important that you let us know you plan to attend by signing up at the activities board or contacting the church office.
For more information or to be on the breakfast e-mail reminder list, contact Gary Cantleberry (225-9066).
Future Topics
November 9: We welcome a speaker from the No One Left Behind organization. We will hear the story of how translators assisted the US military in the war against terror and tyranny in their homeland and their subsequent rescue to the US after their work was completed.
December 14: We have two guest speakers, Jack Palvino and Tom Proietti, who will help us reminisce about the golden days of Rochester radio.