Men's Breakfast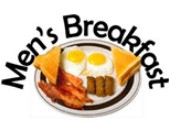 February 9: Gabe Zanche, co-owner with his brother of the Gabriel First Corporation, will talk about his company and one of his favorite topics: DIRT and how to get rid of it. Gabriel First is a leader in facility cleaning products and has been very successful in this business by focusing on their customers' success.
The men's breakfast group welcomes all men in the community. Our breakfasts are at 8:30 on the 2nd Saturday of the month from September to May. We hope to see you.  Watch for news in the Herald,bulletin, and online.
Our format includes a delicious breakfast, a devotion, a featured speaker, and plenty of Christian fellowship. A $5 donation is appreciated to cover expenses.  
For meal planning it is important that you let us know you plan to attend by signing up at the activities board or contacting the church office.
For more information or to be on the breakfast e-mail reminder list, contact Gary Cantleberry (225-9066).
Furure Topics 
 March 9: A representative from the NY State Attorney General's Rochester office will fill us in on how we can detect fraud and avoid being caught up in a fraud situation.
  April 13: Mike O'Brien, "The Getaway Guy", will bring his story of the unusual adventures and behind the scenes fun he experienced while shooting his travel episodes for Cable Channel 9.
  May 11: Gary Newman, a history enthusiast, will remind us of the events that brought the U.S. into WW II along with the series of happenings that led to D-Day. Gary will include Rochester's part in supporting the war effort.