Men's Breakfast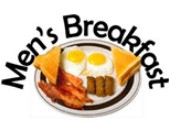 October 13: Our guest speaker is Messiah pastor Rev. Aileen Robbins. She will narrate the story of her travels in Spain last fall during a three-month sabbatical period that provided time for meditation and reflection.
The men's breakfast group welcomes all men in the community. Our breakfasts are at 8:30 on the 2nd Saturday of the month from September to May. We hope to see you.  Watch for news in the Herald,bulletin, and online.
Our format includes a delicious breakfast, a devotion, a featured speaker, and plenty of Christian fellowship. A $5 donation is appreciated to cover expenses.  
For meal planning it is important that you let us know you plan to attend by signing up at the activities board or contacting the church office.
For more information or to be on the breakfast e-mail reminder list, contact Gary Cantleberry (225-9066).
Furure Topics
November 10: Guest speaker Jenny Brongo, Homesteads for Hope owner, will describe the local nonprofit's mission of helping build a future for children with special needs.
December 8: We are extremely pleased that our guest speaker will be Donna Deedee. Donna will be here to tell us about the Holy Childhood organization where she is CEO and president. Her focus will be on the organization's Special Touch Bakery. Donna also serves several other Rochester business and charitable organizations in leadership positions.